It tastes even better with lime.
By Sarah RenseFeb 22, 2019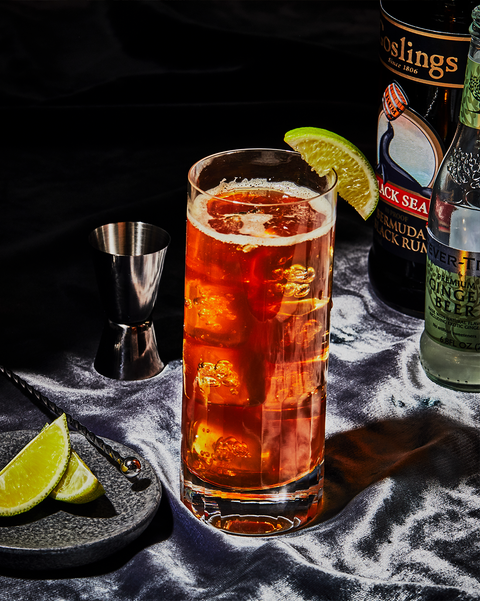 ESQUIREYields:1Total Time:0 hours 5 minsIngredients2 oz.
dark rum3 oz.
ginger beer1/2 oz.
lime juice (optional)This ingredient shopping module is created and maintained by a third party, and imported onto this page. You may be able to find more information about this and similar content on their web site. Directions
Fill a tall glass with ice cubes. Add rum.
Pour in ginger beer and lime juice.
Stir with a barspoon.
Garnish with a lime wedge. Enjoy.
The Dark and Stormy cocktail was not born from the windy blackness of London, nor was it created in a barroom catering to the alcoholic needs of woebegone writers. In fact, it has nothing to do with bad literary tropes and gothic language. The Dark and Stormy is a drink that came to be in the Caribbean waters, where rum is plentiful and so are sailors. It's a drink that was spit out by the sea, more or less. It's a drink with a really cool name.
To make a Dark and Stormy—it has just three ingredients but lots of spice—Gosling's Black Seal rum is the preferred brand, but really, anything dark and funky will work. Officially speaking, it is frowned upon to liven up your Dark and Stormy with lime juice, but we appreciate a layer of citrus. Just don't swap in ginger ale for the ginger beer. That would be a crime.